My parents going into retirement might not seem like a big deal, they really have earned it and I'm happy for them to finally have some time for themself.But the restaurant being handed over to new management is a bit sentimental, nostalgic even scary.
When we came to Austria 33 years ago, they opened this restaurant and the restaurant came with an apartment above the restaurant. The entrance to the apartment was through the restaurant.
Even though I now just realize that I lived there only 6 years (I left home when I was 16, different story) it's still something I grew up with. Every day I left for school through this restaurant and went through the restaurant when I came back. Going to the playground? Through the restaurant of course. There was contact with a lot of people even in the short six years I lived there, people recognizing me on the street and greeting each other like in a small village, but now compare this to 33 years.Carmen, my stepmom, was 27 when they opened the restaurant. You do the math …
If you do the same thing, day in, day out, for 33 years, there are so many people, so many people growing old and even a lot of people dying in this time. Some students came to that place and meanwhile the students are parents and they came with their kids, some are even grandparents meanwhile.After such a long time, the people coming to the restaurant aren't just clients, they are like family. For some this restaurant was like a church, my parents being bartender, cook, friend and shrink at the same time.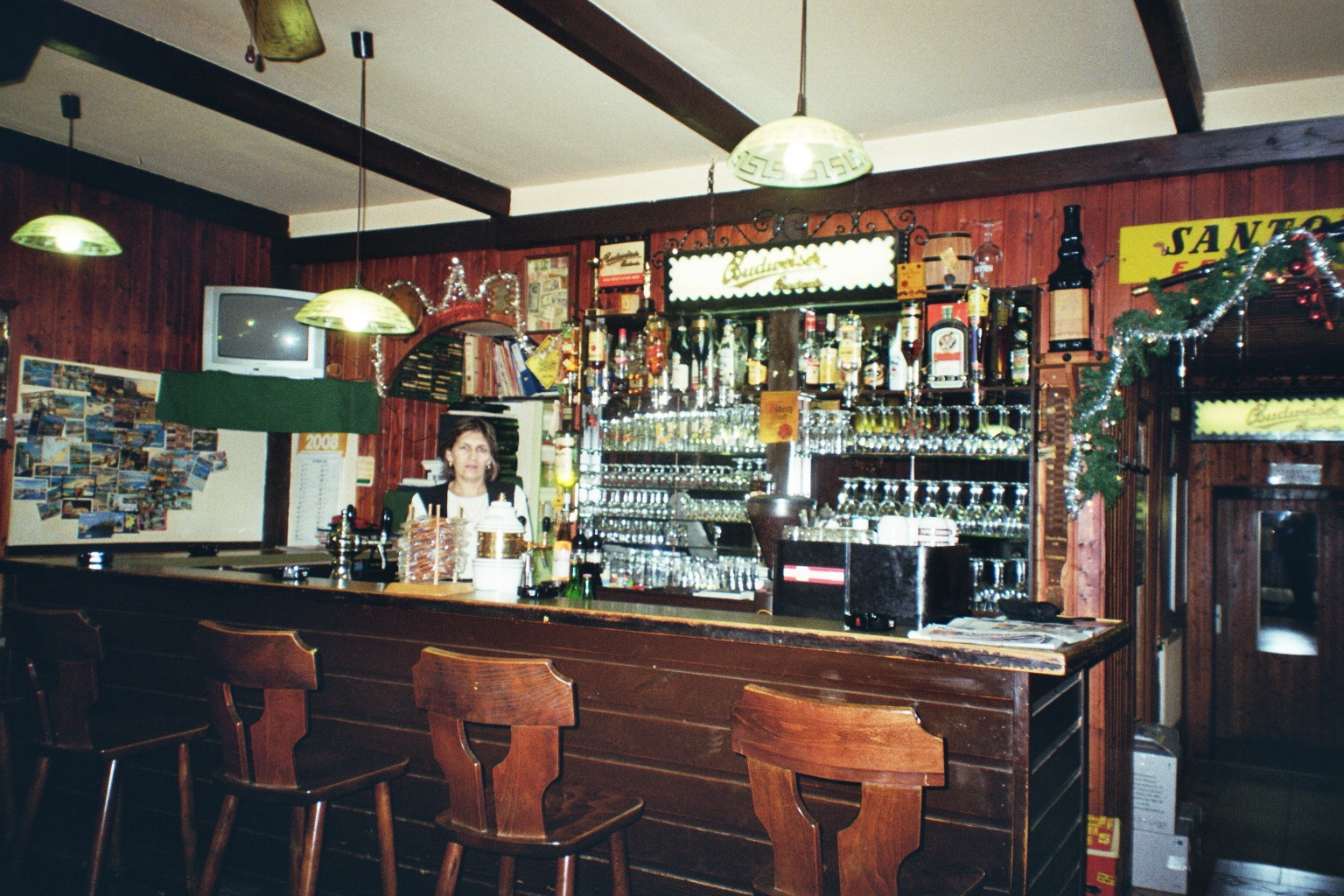 So many stories in 33 years, oh so many … The guy who came in with a loaded gun, the guy who left with his dog just to come back a few days later all patched up because he forgot his dog outside of the tram and then jumped out of the tram while it was still driving, the guy who lost his teeth after trying to steal a purse, the flipper game that provoked rage that some players paid in advance for the repair of the flipper game since they knew they will be smashing the glass window of the game, the elderly couple that you could set your time after, always coming at the very same time, sitting at the same table, every day, drinking the same amount of glasses of wine, then a coffee and then the same amount of glasses of wine again.Of course, nobody remembers the bad things and I will not stir it up now and just think of the good memories or let's say the entertaining ones.
After all these years and all these people, it's touching to see the reaction of so many of the regulars, people crying, writing touching things, flours, trying to squeeze in one last visit. I think from our side, I mean my sister, parents, and me, we haven't yet grasped fully what is just happening. I think the ones that realize it least are my parents, now still busy cleaning up stuff and preparing to hand over the keys in two days. The first week of waking up and not having to open up the restaurant will be quite an unusual day. Not having to plan the menu for the upcoming week, no shopping for the restaurant no taking calls or replying to emails for reservations.
Thinking back, all my major life events happened in that restaurants. In that restaurant, I told my parents I'm dropping out of school, was told by my parents that my best friend died, introduced my parents to my girlfriends, told them I'm getting married, told them they are becoming grandparents (well, actually I think that one didn't happen in the restaurant but for the fun of it, let's assume it did), telling them that I'm getting divorced, all of it happened in the restaurant. My birthday parties as a kid? Restaurant of course. It was like an offline version of Facebook.There is no doubt that this place will forever remain somewhat sentimental, there are a lot of personal stories there as well, good ones, bad ones, boring ones, exciting ones …My love for AC/DC and Guns 'n Roses, also from the restaurants. Some students brought their cassettes (yes! Cassettes, I am that old, google it if you don't know what that is) with Guns 'n Rosses or AC/DC, I dubbed them and listened to them on my Walkman on the way to school. My start into VoIP Business? Well, the gathering of knowledge about technology for Voice over IP and telephony wasn't because of the restaurant, I did it for fun and curiosity, but after some sleazy sales guy convinced my parents to change phone provider which broke a lot of things I was furious and decided I will start doing the phone stuff also professionally.
I think if I keep on writing I will find more and more stories and memories so I will just pour a glass of wine and drink to the era that is just about to end, and to the new era that is going to start since every ending is also a beginning.To you dear restaurant, thank you and fuck you at the same time! You know why. Rest In Peace and to many more years under new management.
---